Our Top 10 London Specialist Shops
December 6, 2014
0 Comments
With so many of us focussing our attention on Christmas shopping it seemed a good time to choose our favourite London specialist shops. Some of them famous ones, some of them not so famous. If you get tired of shopping though you can always come on one of our walks to get in the Christmas mood
1 James Smith & Sons umbrella and stick shop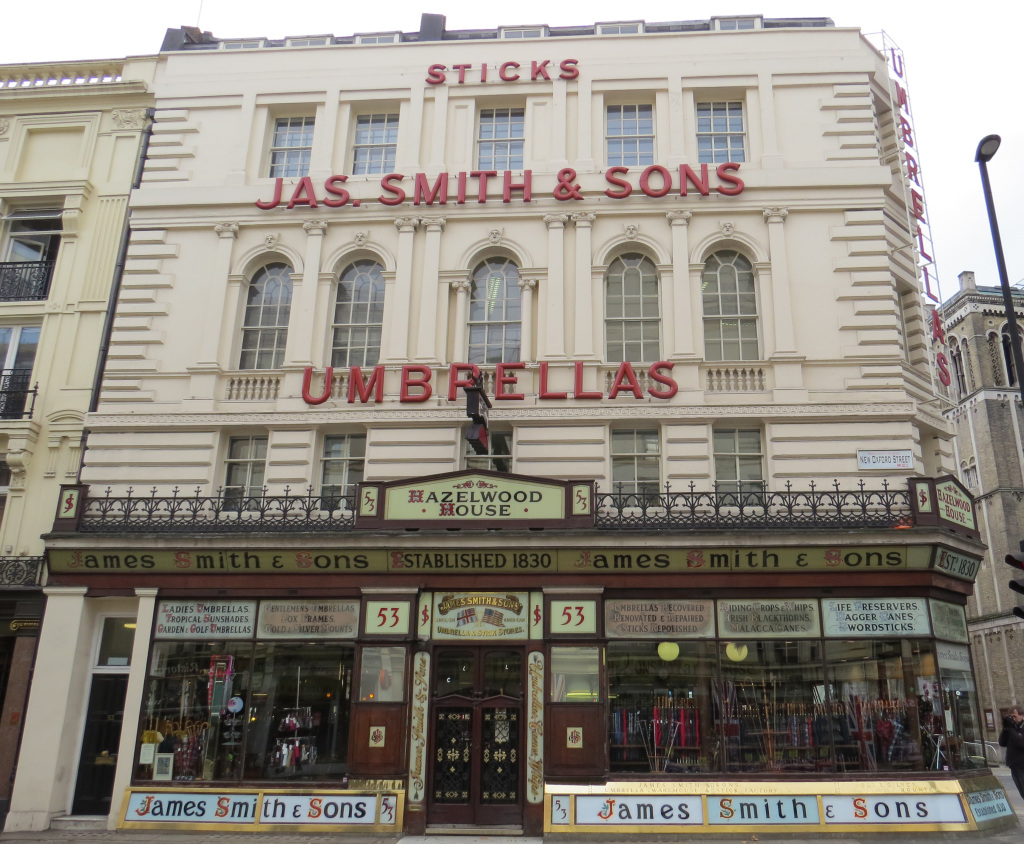 Stephen Benton likes James Smith and Sons at 53 New Oxford Street. "It is quite a survival but the umbrellas do not come cheap – one in the window was £85, but their hand made range is actually a lot more expensive than that – over £200. Not the sort of thing you would want to leave on the train.
Established in 1830, they apparently make some of their product on site. They do walking sticks too and according to one of the old shop front signs whips and sword sticks (although this product range does not seem to be on their website catalogue!)."
2 Penhaligon's parfumier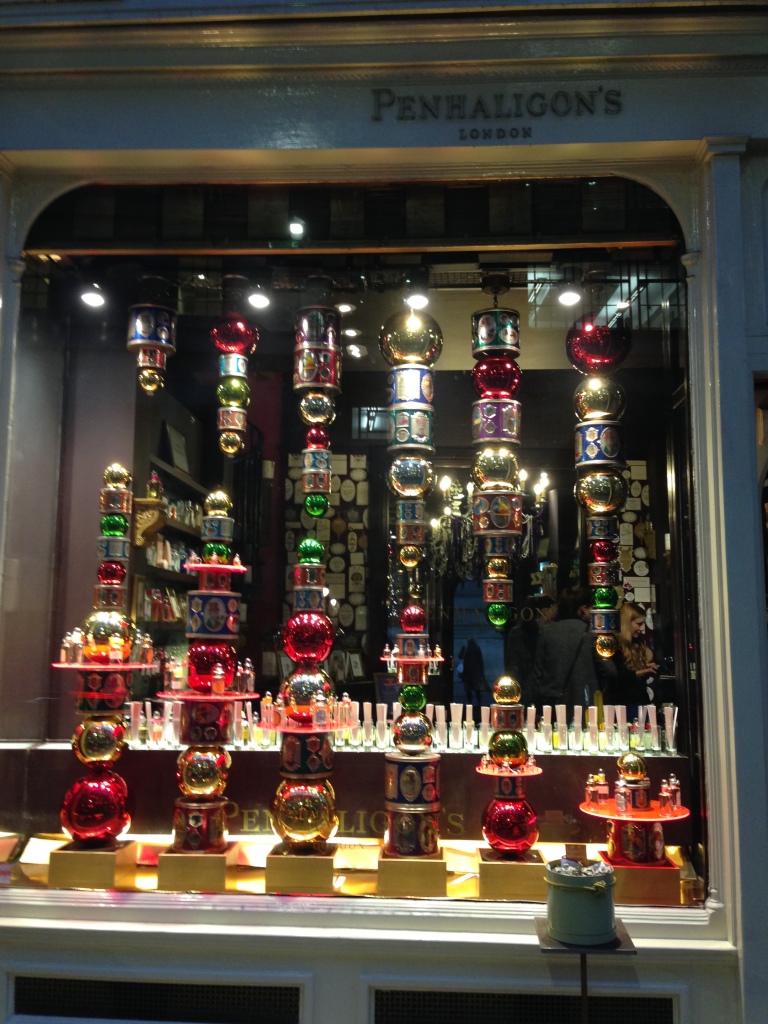 Tina Baxter chose Penhaligon's at The Royal Exchange "The brand was created by William Penhaligon, who concocted his first perfume Hammam Bouquet in 1872. It was inspired by the heady, musky aromas emanating from the Turkish baths on Jermyn Street. Penhaligon set up a barber shop on the same road, and traded there until it was bombed in the Second World War. Winston Churchill's particular favourite was 'Blenheim Bouquet' and Penhaligon continue to bring historical references into their lines, this summer they featured trading with East. They company also have a Royal Warrant.
There is also a Penhaligon's situated at the south side of The Royal Exchange in the City of London, in an area once known as 'heart of empire'. This seems appropriate as he current building (there have been three on this site) was designed by William Tite and opened by Queen Victoria in 1844. It was the original idea of Queen Elizabeth's financial adviser, Sir Thomas Gresham, who wanted a trading building in the City similar to that of the Bourse in Antwerp. The first building was opened in 1571. A story goes that near to the time of the opening only half the shop spaces were occupied so an offer of 'buy one get one free' was offered, so the new building was full at its opening. So you see, it's all been done before!
"The Eye of London," as Stow affectionately calls the first Royal Exchange, rapidly became a vast bazaar, where fashionable ladies went to shop, and sometimes to meet their lovers.
Contemporary allusions to Gresham's Exchange are innumerable in old writers. Donald Lupton, in "London and the Country Carbonadoed and Quartered into Severall Characters," published in 1632, says of the Exchange "Here are usually more coaches attendant than at church doors. The merchants should keep their wives from visiting the upper rooms too often, lest they tire their purses by attiring themselves. . . . ."
A mention in the Spectator, as late 1712 the shops continued to present undiminished attraction. They were then 160 in number, and, letting at £20 or £30 each, formed, in all, a yearly rent of £4,000. Steele, in describing the adventures of a day, relates that, in the course of his rambles, he went to divert himself on 'Change. "It was not the least of my satisfaction in my survey," says he, "to go up-stairs and pass the shops of agreeable females; to observe so many pretty hands busy in the folding of ribbons, and the utmost eagerness of agreeable faces in the sale of patches, pins, and wires, on each side of the counters, was an amusement in which I could longer have indulged myself, had not the dear creatures called to me, to ask what I wanted."
Today the shops in and around the Royal Exchange continue to sell luxury items, sadly they are not as well attended as in days gone by, but do window shop and the assistants are pleased to see you, Penhaligon's in particular. So after one of our City walks why not have a look around, a far more enjoyable experience than the hustle and bustle of the West End"
Tina has regular walks in the City of London see our website for the next one
3 Paul Rothe and Son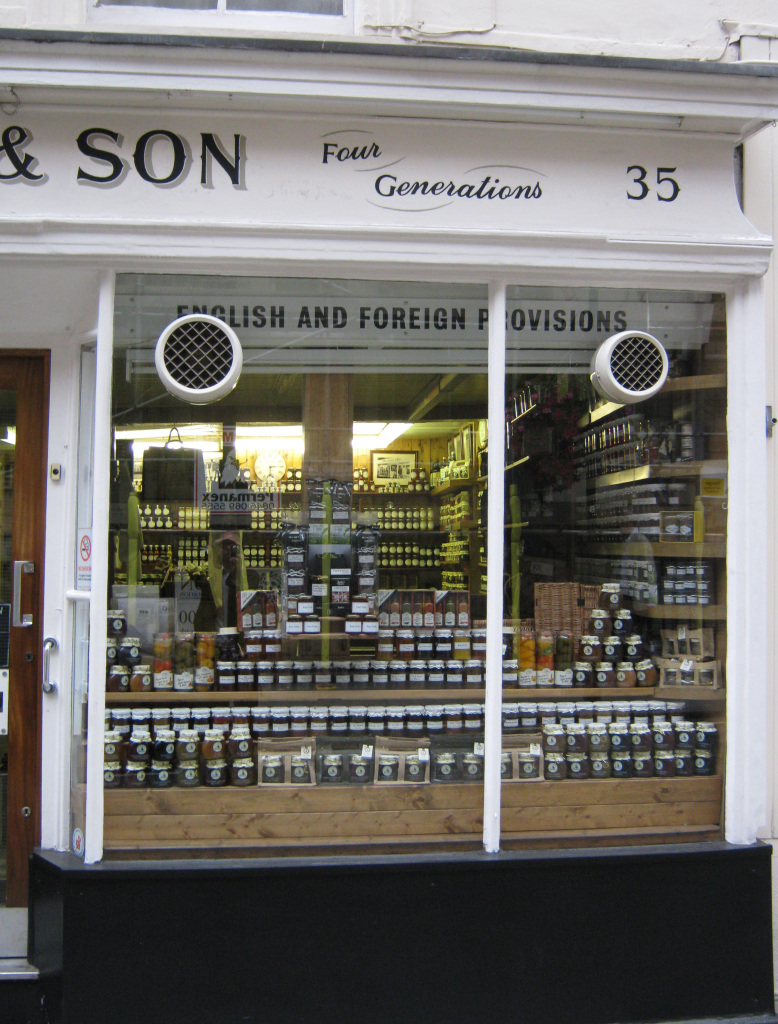 Richard Watkins chose Paul Rothe and Son in Marylebone Lane. "Paul Rothe, a German immigrant, opened the shop in 1900, and the look has hardly changed since. Locals love the old fashioned style: from the blackboard beckoning in passers-by, shopkeepers, dressed in white coats who greet customers like old friends to the shelves packed with homely jams, relishes and biscuits, as well as unexpected items like Krakus Polish pickles. Menu includes: homemade soup, fresh salmon and bratwurst. In short, a lovely local, independent, traditional shop standing up to all the horrible chains – and part of Marylebone's high street history!"
Richard's "Mad World of Marylebone" walk stops right outside Paul Rothe and Son along the atmospheric Marylebone Lane which follows the course of the Tyburn (one of London's lost rivers).
4 Sotherans Antiquarian Bookshop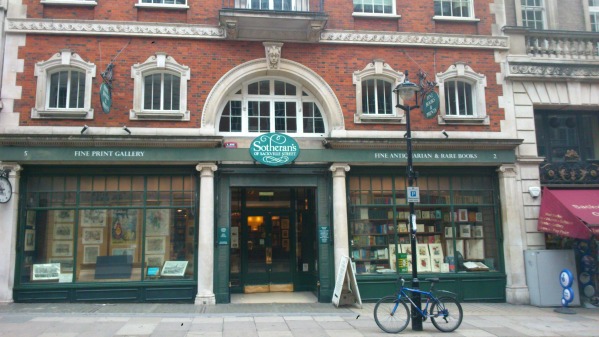 Founded in York in 1761 and celebrating its bicentenary in London in 2015 Sotherans is the oldest established antiquarian bookshop in the world. As well as whole libraries – the shop dealt with the collections of both Lawrence Sterne and Charles Dickens – today there is something for everyone at a range of prices. They also sell posters and they recently held an exhibition of vintage travel posters within the shop. The shop can be found in Sackville Street, just yards from Piccadilly.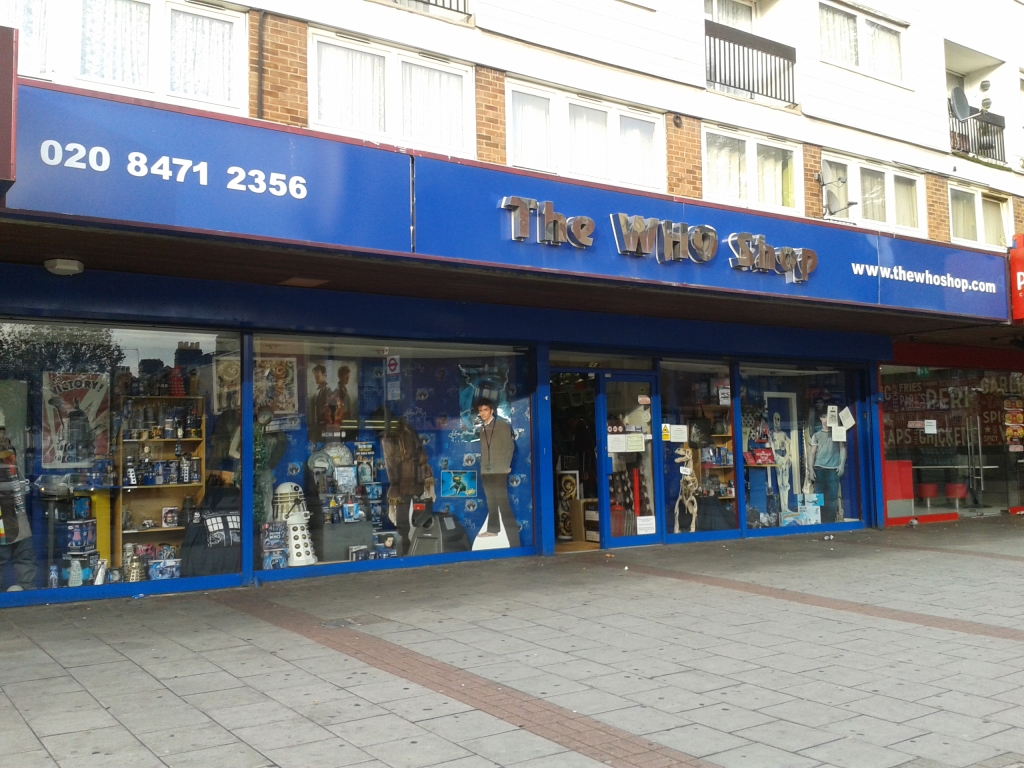 This part of town is full of surprises and for Dr Who fans this is somewhere you have to visit. The Who Shop is the place where you can buy all things Dr Who, old and new. You can order online, to be delivered anywhere in the world. but nothing beats the experience of visiting the shop and being surrounded by anything and everything Dr Who. You can even go through the Tardis to discover the museum of props and sets from Dr Who and other TV shows.
Sue has a walk looking at the history of the East Ham area see website for details of the next one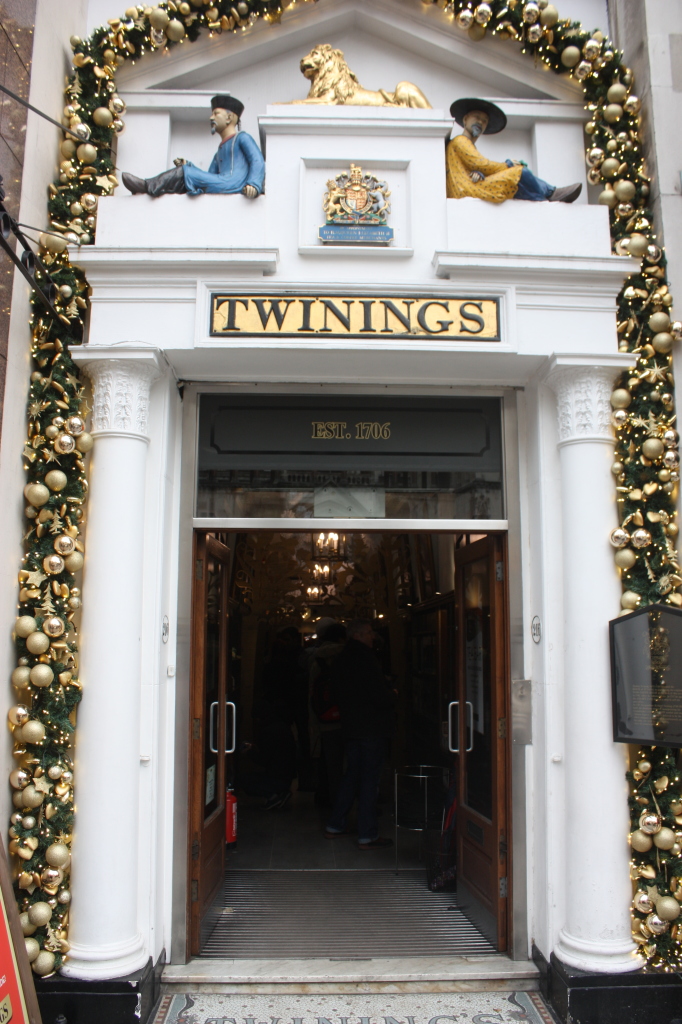 Twinings were one of the first importers of Tea into Britain and is the oldest shop in the City of Westminster trading on the same site with same family with the same products. It was opened in 1706 by Thomas Twining who decided to offer tea to compete with the other coffee houses springing up throughout London.
For most of the 17th and 18th centuries, tea was a luxury few could afford – a pound of tea cost half of the daily wage of a London tradesman and it was bought by the ounce or pound and weighed out on apothecaries scales. Prepackaged tea not available till 1826.
Don't forget to go inside and have a look at the small museum showing the history of Twinings. Have a look at a wooden box which has the initials T.I.P. – to insure promptness. Patrons of the coffee house would drop a few pennies into the box to encourage swifter service. The origins of the modern day tip!
You can see Twinings on Elaine's walk "Strolling Around The Strand" – Look at Footprints website for the next date.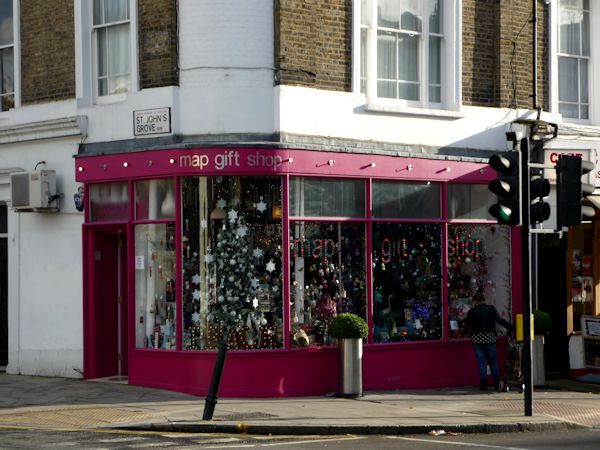 MAP was founded by the design partnership of Ian Morris and Kathryn Phalp in 1990 and moved to their current premises, a former butcher's shop on Junction Road, in 2000.
The shop stocks a large range of unique gifts and cards for all occasions, many produced by local artists and designers. And you can have your purchases expertly gift- wrapped.
It's a real treat to visit. Ian is a mine of information on the history of the local area and has a great collection of historic photos which he's always pleased to show to visitors.
Jen's walk, Archway, My Way, possibly the only guided walk that exits through the gift shop, finishes here and will be coming up again in the new year.
8 Walden Books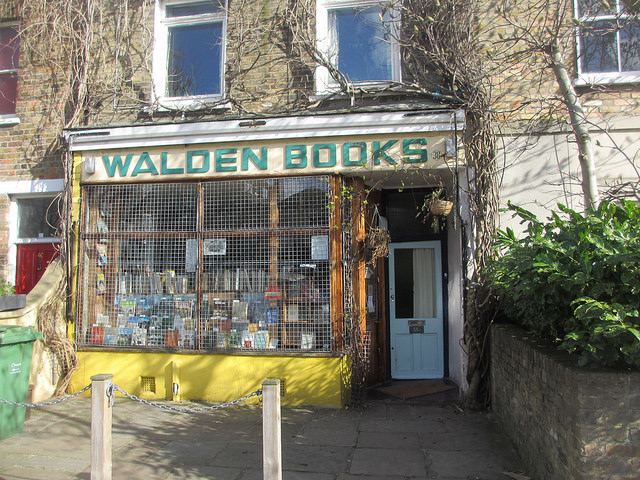 Dave Brown chose Walden Books of 38 Harmood Street – half way between Chalk Farm and Camden Town. This is a second hand shop with amongst other collections a really good selection of old London books. It's delightfully ramshackled, gives the impression of still being back in the 1940s – and the opening hours seem rather erratic – so it is a delight when you find it open. See http://www.waldenbooks.co.uk/ (I'm pretty sure the catalogue online only contains a fraction of the books they have).
9 The Society Club est 1957
I nominate one of Soho's, indeed London's, quirkiest shops. The Society Club 1957 in Ingrestre Place. It is a bookshop specialising (not exclusively) in poetry, both new, first editions and second hand. It has tables where you can sit with your laptop and read, as well as drink coffee and wine. And it also specialises in – wait for it – dog food and moustache wax. You really couldn't make this place up! It also holds book launches and poetry readings in the evenings for members only, but in the daytime functions as a book/moustache wax/dog food shop for all the public, were you can also drink. Bizarrely wonderful.
Alan has regular walks looking at the literary and restaurant history of Soho
Rob Smith
chose Paxton and Whitfield on Jermyn Street
Just walking in the door of Paxton and Whitfield is enough to provide a quick hit for the cheese addict, it has to be one of the most distinctive aroma's of any shop in London. The company can chase its roots back to a market stall run by a man called Stephen Cullum in 1742. During the 18th century dairy food became more fashionable and in 1770 Cullum moved to a shop in Surrey Street with a partner called Harry Paxton, before Cullum's son took over the business selling cheese to the aristocracy from a shop in Piccadilly. A third partner Charles Whitfield joined the business which moved to Jermyn Street in 1835. They were appointed cheese makers to Queen Victoria in 1850. Things were not all plain sailing though – the business was bought and sold a number of times, and tastes had changed – the farmhouse cheeses the shop sold were not as fashionable as imported cheeses, leading to the shop going bankrupt in 1888
Luckily new owners were found and fortunes changed again with Royal Warrants to supply Edward VII and indeed every other monarch since. Shortages during wartime briefly led the shop to become a general grocers, but since the 1960's the shop has been a specialist cheese seller exporting and importing cheese all around the world.